Sadly, National Registry of Scotland figures released today indicate that there were 109 drug-related deaths in Edinburgh in 2021. This is an increase on previous years and the highest ever recorded in Edinburgh. The numbers reflect 109 tragedies for individuals, families and our community.
This is part of a rising trend in Edinburgh and Scotland over several years.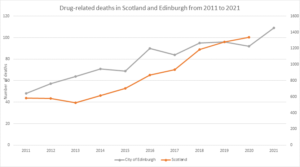 There was a sharp increase in deaths in Edinburgh at the beginning of 2021. Etizolam was implicated in many of the deaths in that period and increased use of that drug, in combination with other substances, seems to have been the particular reason for the rising numbers.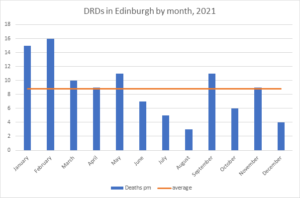 The ADP and its partners continue to work to reduce drug related deaths, investing additional funding from the Scottish Government in treatment, support and recovery. Key actions include:
Shaping services alongside people with lived and living experience of substance use and their families.
Increasing outreach to those who are identified as being at the greatest risk, offering support and access to treatment.
Making treatment more accessible and comprehensive and increasing the total number of people in protective treatment.
Distributing Naloxone, a drug that reverses opiate overdoses, as widely as possible.
Increasing access to residential interventions
If anyone has concerns about their own drug use or that of a friend, family member or neighbour, we would encourage them to seek support. Details of services for drug users and their families can be found on https://www.edinburghadp.co.uk/ or http://arcapp.co.uk/